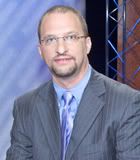 O.C. Register columnist Steven Greenhut, who joined the Libertarian Party of California in 2008, is leaving the Register to join the libertarian think tank Pacific Research Institute. Excerpts from Greenhut's announcement:
This is the penultimate column I'm writing for the Register as a staff member. I'm heading to the belly of the beast, Sacramento, to start a news bureau and investigative journalism project for a free-market think tank – Pacific Research Institute – as part of the "new wave" of journalistic endeavors sprouting up across the media horizon. [...]
This has been a fascinating intellectual and ideological journey, as I've moved from a mainstream conservative Republican to a fire-breathing libertarian.
The more I've covered government, the more I've realized, to paraphrase a libertarian saying, that there's nothing government can do for you that you can't do for yourself better and more inexpensively. Government is about force – there's nothing more to it than that. Its sole function should be to serve as a sort of referee, to protect our God-given rights to life, liberty and property and let everything else get hammered out in the private world of willing buyers and sellers.
Unfortunately, government has become gargantuan. It intrudes on every aspect of our lives. Its officials and agents have become a pampered and protected elite. The larger and more intrusive government becomes, the less capable it is of handling its main responsibilities. Note how the state of California used to spend 40 percent of its far smaller budget on infrastructure, but now spends about 3 percent on roads, bridges and aqueducts, as it squanders tax dollars on everything from outsized pensions to solar initiatives. Instead of protecting our natural rights, the government – and the one in Sacramento in spades – has become the main threat to those rights, a situation that would have not surprised the nation's founders or any of the great libertarian thinkers. [...]