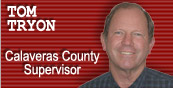 Libertarian Tom Tryon is serving his seventh consecutive term on the Calaveras County Board of Supervisors since first being elected in 1984. On Oct. 6 he voted with a 3-2 majority against approving a golf course that had been built on some agricultural land whose owners had accepted tax breaks in exchange for promising to keep their land in agricultural production. Excerpts from an Oct. 8 story by Dana M. Nichols in the Stockton Record:
The 280-acre Trinitas golf course south of Wallace will go to foreclosure auction Friday after the Calaveras County Board of Supervisors earlier this week denied the owners' appeal to legalize golf on agricultural land. The vote Tuesday was 3-2, with supervisors Gary Tofanelli and Russ Thomas opposed. That was the same split by which the board back in May voted to deny the request of Trinitas owners Mike and Michelle Nemee to legalize golf by changing the property's zoning to recreation. [...]
A majority of the Board of Supervisors rejected the argument that golf is agritourism and thus legal in agricultural zones under the county's agritourism ordinance. "That's a stretch," Supervisor Tom Tryon said of the idea that an 18-hole golf course is agritourism. And he also said bankers were unwise to lend millions of dollars to the Nemees when the Nemees did not have the necessary permits to build and operate a golf course. "The bank didn't do their job," Tryon said.
Williamson Act contracts grant property owners tax breaks in exchange for promising to keep their land in agricultural production. The Nemees have argued that operating an 18-hole luxury golf course is the best way for them to generate additional income so they can protect the existing olive-growing operation on the property. Critics of Trinitas have argued that calling the golf course agritourism is an attempt to hijack the county ordinance to allow nonagricultural development on land the ordinance was intended to protect.
[Excerpts from
an Oct. 12 article by Claudette Langley in the Calaveras Enterprise
:]
"I don't believe an 18-hole golf course is agritourism," Supervisor Tom Tryon said. "I believe it is my duty to protect and promote agricultural activity in the county and I think allowing this would violate that trust."
Lew and Kathy Mayhew, co-founders of Keep It Rural Calaveras, sent out a press release Wednesday lauding the action of the board. "By their Oct. 6 action denying the Trinitas appeals, Supervisors Tryon, Wilensky and Callaway thoughtfully and courageously voted to uphold our zoning laws," the press release read. "They took strides to restore land-use planning in Calaveras County. They acted in the best interest of the citizens of Calaveras County, not the interests of a developer."