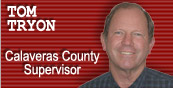 Libertarian Tom Tryon is serving his seventh consecutive term on the Calaveras County Board of Supervisors since first being elected in 1984. From an Oct. 28 article by Michael Kay in the Calaveras Union Democrat:
Despite the hopes of Calaveras County Treasurer-Tax Collector Lynette Norfolk, future aspirants to her office will need only a California Driver's License, after the board voted 2-2 on half her birthday wish — establishing continuing education requirements — resulting in no action.
The requirements are laid out in a little over a page of text in the state Government Code, but adopting them is optional, according to a County Counsel opinion. Under them, candidates are required to have either a degree in a finance-related field, served three or more years in a similar position with a public agency, or be certified as an accountant, financial analyst or cash manager.
"I'm very leery of putting conditions on what the voters can vote on," said Supervisor Tom Tryon. County Counsel Jim Jones informed the board that the requirements, even if instituted, did not define any penalty for noncompliance.
An unsigned Nov. 4 editorial in the Union Democrat cited evidence against its own position, and then feebly invoked the bad example of occupational licensure:
Said Calaveras County Supervisor Tom Tryon during last week's debate, "I'm very leery of putting conditions on what voters can vote on." Indeed, a case can be made that anyone should be able to run and that voters who elect a tax collector-treasurer without financial experience "get what they deserve."
Until the mid-1990s, there were no qualifications for the treasurer-tax collector post. Then, in 1994, Orange County's investment portfolio crashed like a house of cards due to risky, reckless investments by Treasurer-Tax Collector Robert Citron. The county's loss: $1.5 billion.
Citron resigned, later pleaded guilty to six felony charges and was sentenced to a year in jail. In the wake of the scandal, the Legislature added optional qualifications for the job to the Government Code. Ironically, Citron himself met the requirements when first elected in 1970. By that time he had been an assistant in the office long enough to meet the experience standards.
So, obviously, qualification and continued education requirements alone are no guarantee that an unscrupulous politician won't violate the public's trust. But just as consumers choose among licensed contractors when looking to build, they should be able to choose among professionals when deciding who will manage the taxes they pay.
And it's not as if the proposed qualifications would drastically shrink the potential candidate field. Norfolk said some 50 certified public accountants practice in Calaveras County, and being a CPA is only one of several ways a treasurer-tax collector candidate can qualify for the job.