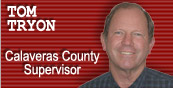 Libertarian Tom Tryon is serving his seventh consecutive term on the Calaveras County Board of Supervisors since first being elected in 1984. From an Jan. 28 article by Walt Cook in the Calaveras Union Democrat:
An environmental group filed lawsuits Wednesday against the California Department of Forestry that contend the agency failed to properly analyze carbon emissions stemming from 15 logging plans proposed by Sierra Pacific Industries. State law requires industries to analyze any projects that could add carbon dioxide to the atmosphere and, thus, potentially contribute to climate change.
If all 15 SPI logging plans are approved, over 5,000 acres of forest would be clear-cut in the Sierra Nevada and Cascade Range, according to the environmental group. The lawsuits comes as no surprise to SPI spokesman Mark Pawlicki. He said the environmental group originally challenged the logging projects over greenhouse gas emissions in August. This prompted SPI to re-submit its analysis to the forestry department, which approved the revised plans in December.
Pawlicki contends that SPI's logging practices actually cut down on greenhouse gases because the company — the state's largest private landowner — plants more trees in logged areas than it removes. He said that calculation even takes in to account the diesel exhaust from harvesting equipment.
Pawlicki has support from local politicians. "I'm skeptical on all this global warming, quite frankly," said Calaveras County Supervisor Tom Tryon. "What they want to do is run Sierra Pacific Industries out of business." Tryon surmised that if SPI went under, its large forest landholdings would become severely overgrown or turned into large-lot subdivisions.
John Buckley, director of the Twain Harte-based Central Sierra Environmental Resource Center, meanwhile, shared the Center for Biological Diversity's concerns. He also pointed out an irony: SPI, through its participation in a program allowing it to sell carbon offsets to polluters, has acknowledged the impact carbon emissions have on climate change. "The company is actually profiting by getting paid for carbon credits," Buckley said. "That makes it even more reasonable to require SPI to legally comply with state environmental policies."