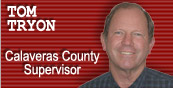 Libertarian Tom Tryon is serving his seventh consecutive term on the Calaveras County Board of Supervisors since first being elected in 1984. From an Feb. 3 article by Dana Nichols in the Stockton Record:
Ed Pattison, the water resources manager for Calaveras County Water District, reminded the supervisors that the cost to build water infrastructure and the struggle for Calaveras County to preserve water rights has powerful influences on the General Plan. That's why the water element calls for "looking to steer growth toward city centers." Pattison acknowledged that planning to concentrate people in towns will displease private-property rights advocates who hope to carve ranch land into ranchettes.
Pattison seemed to have some support for his views. Supervisor Tom Tryon said growth in community centers should be required to have municipal water, sewer connections and streets built up to standards. And he urged his colleagues in local government to send the message that property owners should not expect agencies to provide services such as water lines to rural housing tracts whose wells go dry.
"If you want to exercise your rights to rural sprawl, you're on your own," Tryon said.